Our history​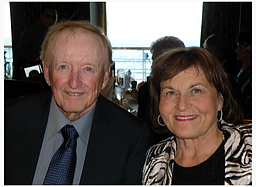 The owners of Barsetti Vineyards are Janis Barsetti Gray and Richard Gray. Janis' grandfather Gottardo Barsetti came to America from the southern part of Switzerland in 1903 and settled in Galt in 1912. In 1941, Janis' father and grandparents bought the property where the vineyard exists today.
Up until 1995, when the vineyard was planted, the land supported dairy, beef cattle, and crop operation. The birth of Barsetti Vineyards as a wine label began in 2001.
Both Janis and Richard retired from Fortune 500 corporate careers before pursuing their passion.
Richard retired from United Airlines, after working with United for 34 years. He was employed at Seattle Tacoma International Airport. Richard was born and raised in Bellingham, Washington. After graduating from Bellingham High School and Western Washington University, he joined the Coast Guard. After Richard's passing in 2015, Janis has continued growing Barsetti Vineyards and her tasting room in Old Town Galt.
Janis retired from the Hertz Corporation at Sacramento International Airport. She was employed by Hertz for over 35 years. She attended Galt High School. Janis graduated from the University of the Pacific in Stockton. Janis was born in Lodi and raised on the family ranch in Galt, which would later become Barsetti Vineyards.
Janis owns 120 acres, which is planted in Zinfandel, Pinot Noir and Chardonnay in the Lodi Wine Region east of Galt.